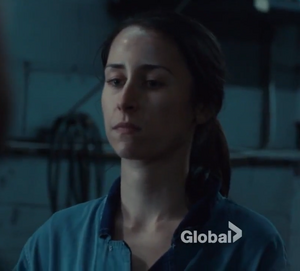 The unnamed
Female Thief
(Emma S. Johnson) is a villainess from "Crimes of Fashion," episode 2.04 of
Private Eyes
(airdate June 15, 2017).
The female thief worked at a garage, and in the episode, she and her male co-worker/partner in crime were enlisted by the episode's main villainess to steal a collection of clothes created by fashion designer Sonia Valero. The thieves committed the theft in the beginning of the episode, driving in front of Matt Shade and Angie Everett, who were in charge of protecting the clothes. Both thieves were ski masks, and while the villainess held Angie at gunpoint, her partner took the clothes out of their vehicle and placed them in the back of the SUV.
The SUV had a unicorn sticker on the back window, and that led Matt and Angie to the home of a pregnant woman, who stated that the car was taken to a garage for repairs. This led them to the garage, where they encountered the pair, and following the arrival of Max Zangrilli, the duo confessed to the theft, stating that they were contacted anonymously and ordered to place the material at a dropsite. The van was found empty, though Zangrilli recovered a few packages from underneath (later revealed to be containing truffles). It can be assumed that the female thief and her partner were both arrested (off-screen).
Emma S. Johnson later played villainess Tess on Ransom.
Community content is available under
CC-BY-SA
unless otherwise noted.