Wiki Targeted (Entertainment)
Play Sound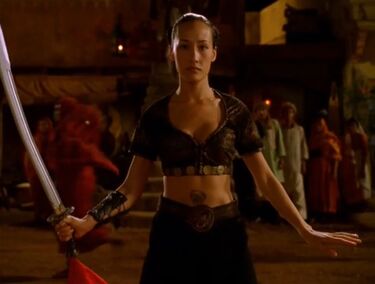 Female Agent (Maggie Q) was a minor antagonist from Disney's 2004 film, Around the World in 80 Days. She was an assassin that worked for General Fang and was affiliated with the Black Scorpions. She is introduced halfway through the film when the protagonists Liu Xang, Phileas Fogg, and Monique Laroche arrive in India to escape from British authorities. She ambushes both Phileas and Monique while Xang is occupied with fighting a hulking chained agent. When Monique attempts to defend herself against the agent, the latter violently grabs Monique by her throat and hangs her against a wall. In an effort to stop her attacks, Phileas attempts to convince the agent into believing his sextant is actually a deadly knife. When the agent reveals to him that she's aware of what a sextant is, Phileas unleashes the device against a large rug held together by wooden beams, that fall and directly hit the agent in the face, knocking her to the ground unconscious. Phileas and Monique notices her regaining consciousness and decide to run to avoid confronting her again.
The female agent wore a green shirt along with a black skirt. When she first appears on screen, she is disguised while wearing a red colored niqab that covered her face and entire body while spying on both Phileas and Monique. On her stomach was a black scorpion tattoo. Her main weapon was a large sword.
Trivia
This was Maggie Q's first villainous role.
Maggie Q later appeared in 2007's Live Free or Die Hard as Mai Linh and in 2018's The Con is On as villainess Irina.
Gallery