Wiki Targeted (Entertainment)
Play Sound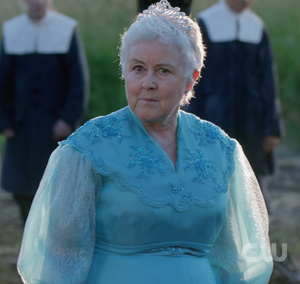 The Fairy Godmother (Jane Carr) was the main villainess from "Witch Hunt," episode 4.02 of Legends of Tomorrow (airdate October 29, 2018). She was introduced as a guardian angel of sorts to young Prudence Hawthorne in 1692 Salem.
The Legends traveled to the aforementioned time period amid reports of magical activity. After laying witness to Jane Hawthorne being accused of witchcraft, they also saw the villagers attacked by a murder of crows, leading the group to believe that Jane's daughter, Prudence, has powers of her own. John Constantine's belief that a demon was controlling Prudence was originally disproven when the Fairy Godmother appeared, with the mystical being coming across as being sweet-natured and protective of Prudence.
However, the episode's progression revealed that the Fairy Godmother's sweet nature was a cover for her true malevolent demeanor, with an evil cackle establishing her villainous personality. After Constantine heard the Godmother's presence, he was encountered by the villainess, who revealed that she had become bitter over granting wishes to vain children--even mentioning Cinderella among her charges--and ended up banished to Mallus' demonic prison by humans. Mallus was destroyed by the Legends during the third season finale, but his release allowed the Fairy Godmother (among many other beings) to escape to different time periods, with 1692 Salem being her destination. She took Prudence as her charge, but as revealed, the evil Godmother planned to fuel Prudence's revenge and use the child to further her own vendetta against humanity.
The Fairy Godmother manipulated Prudence into believing that the Legends had no interest in saving her mother, leading to Prudence escaping with the villainess, who sealed Constantine's mouth shut and turned Ray Palmer and Mick Rory into pigs. While Jane was set to be burned at the stake, the Godmother urged Prudence to unleash hellfire and brimstone on the town's reverend and the people, with the reverend taking Jane's place. Sara Lance and Zari Tomaz attempted to coerce Prudence not to go through with her Godmother's evil plans, even though the latter answered the Godmother's questions about the future by saying that it doesn't get better centuries later and that different types of persecution are still ongoing. Despite this, Prudence released the Godmother, allowing Constantine to capture her.
Afterwards, Constantine offered the villainess a deal:  either he becomes her charge, or she'd be dragged to Hell. The villainess stated that she knew Constantine's identity and who was after him, stating that she'd rather take Hell than deal with who was after Constantine. The Godmother continued to taunt Constantine, who later opened a portal and sent the evil being to Hell.
Trivia
Jane Carr previously appeared as the villainous 

Olivia

 in Killer Single Dad.