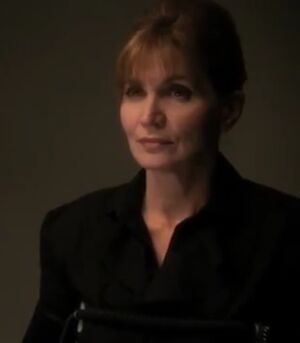 Evelyn Wallace (Isabella Hofmann) is the hidden main villainess from NCIS episode 7.20, "Moonlighting" (airdate April 27, 2010). She is a federal judge who went on a secret crusade to kill informants who would take reduced sentences in return for their testimonies. In her villainous quest, the evil Evelyn enlisted brothers Arnold and Peter Rafferty to kill Stefano Delmar and petty officer Scott Roebuck, along with two other criminal informants. She also masterminded the Cooper's Hawk bombing that killed 13 people (including the brothers), and nearly killed Susan Grady
Evelyn's role was exposed during a polygraph conducted by Gibbs, and it was at that moment that Evelyn voiced her displeasure over criminals getting light sentences in plea deals, She also threatened their livelihoods, but she was finally defeated when it was revealed that a red hair was left at the site of one of the murders. Evelyn was arrested for her role in the murders.
Isabella Hofmann also played villainess Charlotte Bayes on Cold Case, and later appeared as the evil Cheryl Dixon in A Neighbor's Deception.
Community content is available under
CC-BY-SA
unless otherwise noted.