Evelyn is a villainess who appears in the TV crime series "Mr Lucky"  (USA CBS NET 1959 - 60)  and is played by actress Joi Lansing (1929 - 1972).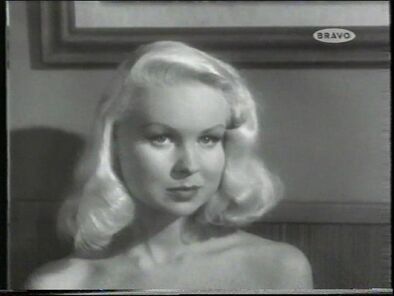 Series premise -  
Honest professional gambler Mr Lucky (John Vivyan) is the owner of a gambling ship (later in the series it's simply a restaurant) anchored in the sea off the coast of Southern California. Lucky and his partner Andamo (Ross Martin) get mixed up with criminals and help bring them to justice in each episode. The series ran for one season.
Episode - 
Season 1 episode 34 (the final episode of the series) - Election bet  (first broadcast on June 18 1960).
Story -
Shady big time bookmaker Mr Toby fears he is about to lose a big bet to Lucky while he also owes a lot of money to the crime syndicate. When Lucky won't call off the bet, Toby hires a hit man to dispose of him.
Evelyn's role -
Villainess Evelyn is Toby's mistress. She seductively lures Mr Lucky into the hands of Toby's hit man. Later she also tricks Lucky's partner Andamo into Toby's clutches, holding him at gunpoint.
Appearance and character -
A glamorous Caucasian platinum blonde gold-digger in very tight dresses.
Evelyn is greedy, ruthless and pretty smart. Though not particularly happy about getting involved in murder, she does her part in setting it all up willingly enough in order to protect her pampered, luxurious lifestyle provided by Toby.
Fate -
Mr Lucky disarms Evelyn from behind as she holds a gun on Andamo. In the climactic fight, where Lucky and Andamo take on Toby and the hit man, Andamo is pushed into Evelyn (who is trying to brain him with her handbag from behind) and she's crushed up against the wall, sliding down it onto the floor, appearing to lose consciousness.
Community content is available under
CC-BY-SA
unless otherwise noted.