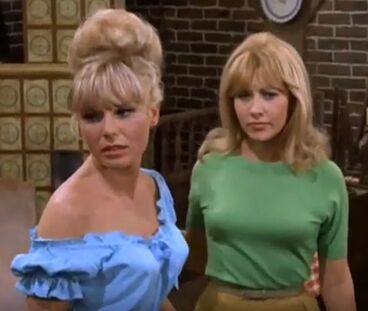 Eva (Susanne Cramer; 1936-1969) and Margit (Hannie Landman) are the main villainesses from "The Flame Grows Higher," the penultimate episode of Hogan's Heroes' first season (airdate April 22, 1966).
Eva and Margit are the proprietresses of a hofbrau that was used as a gateway for escaping Allied prisoners.
However, when Captain Warren, one of the escapees, is recaptured and sent to Stalag 13, Col. Hogan (Bob Crane) realizes that something was up, as this was the first escape ruined in six months. Hogan, LeBeau (Robert Clary), and Newkirk (Richard Dawson) head to the hofbrau and pose as escaping prisoners, and encounter Eva and Margit.
Eva gets cozy with Hogan, and later tells him to head to the north road, which the trio does. The group reach a home inhabited by an elderly couple.  They figure out that Eva and Margit are actually Gestapo informants, and they sent Warren into the waiting hands of the Gestapo.
With this knowledge, the trio returned to the hofbrau and engaged in a toast to the defeat of Germany.  When Sgt. Schultz (John Banner) arrived, having finally found them. A Gestapo officer (Todd Martin) also enters, and it is at that moment that Hogan, LeBeau, and Newkirk discredit their alliance in an attempt to make them look like traitors against the Nazis.
Eva stated that she and Margit were loyal to the Gestapo, but the officer is still convinced that they could be double agents, and the villainesses end up arrested.
Community content is available under
CC-BY-SA
unless otherwise noted.