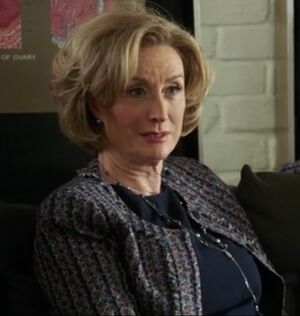 Esther Wilford (Lisa Banes) is the main villainess from Rosewood episode 1.14, "Hydrocephalus & Hard Knocks" (airdate March 23, 2016). She is the mother of Zach Wilford III, and the mother-in-law-to-be for Zach's fiancee, reality star Holly Keaton.
As revealed later on, Esther had learned about Holly's scandalous past, which included a sex tape that had gone public. She secretly sent the video to her son and later confronted Holly regarding her relationship with Zach. Esther attempted to pay Holly to break her engagement, with the belief that she was not good enough for her son. When Holly refused, Esther resorted to killing her, doing so via suffocation. When Julius "Joo-Joo" Beeman came to the room, the evil Esther knocked him out before fleeing, resulting in Julius becoming the prime suspect in Holly's murder.
Esther was revealed as Holly's killer when a diamond from her ring was found in Holly's stomach during her autopsy. She confessed to the murder, much to the horror of Zach, who revealed to his mother that he already knew about Holly's past and he had loved her anyway. Esther was later arrested for killing Holly.
"You had no idea what you were marrying. Holly was trailer trash. I tried to pay her to go away, and she wouldn't. She left me no choice." (Esther's confession to murdering Holly to her son)
Community content is available under
CC-BY-SA
unless otherwise noted.