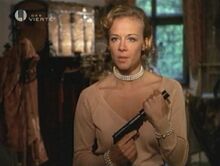 Elsa Hellerstadt is a criminal from the movie Hart to Hart: Till Death Do Us Hart (1996), the 8th and last reunion movie of the series Hart to Hart. She is played by Katja Riemann.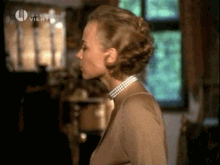 In this reunion movie 12 years afther the original series, Jonathan and Jennifer Hart visit Munich. 2 criminals Elsa and her lover Karl Von Ostenberg (George Hamilton) are after a woman who looks exactly like Jennifer. They kidnap Jennifer by mistake. Elsa wants to kill Jennifer with a silencer gun but Jennifer throws blue ink into her face. Jennifer then puses Elsa into a bookshelf and runs away. Elsa follows her and tries to shoot her but misses. When everything goes wrong for the bad guys Karl lets Elsa alone who tries to run away. But Jennifer stops her by knocking her out cold with a single punch in the face.
Community content is available under
CC-BY-SA
unless otherwise noted.