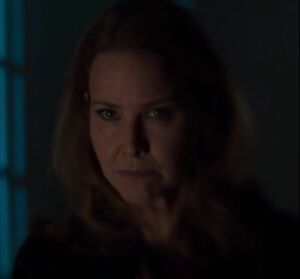 Elizabeth Hennings
(Molly Hagan) is the main villainess from "Red Velvet Cupcakes," episode 5.20 of
The Mentalist 
(airdate April 21, 2013). She is the wife and manager of talk radio host Buddy Hennings, who was having an affair with Missy Robins (one of his guests). Elizabeth had known about Buddy's flings before, but his affair with Missy was the last straw, and it drove her into a rage.
Elizabeth followed Buddy and Missy to the latter's home, where Missy broke off the relationship. She later confronted the mistress, who referred to Buddy as a creep, which actually prompted Elizabeth to pull out a gun and chase her, firing shots at her while doing so. After finding Missy in her bathroom, the evil Elizabeth shot and killed her, and then fired more shots at Missy's left foot, doing so in a fit of rage and symbolism, as Buddy had a foot fetish.
Elizabeth was revealed as the killer in an undercover sting that involved Wayne and Grace posing as guests on Buddy's show. Grace did everything possible to get Buddy's attention, which works; he took her to his office and massaged her left ankle and foot, while flirting with her. It was at that moment that Elizabeth barged in and pointed a gun at Grace, venting over all of the attention he gave other women. Elizabeth was later handcuffed and arrested, and during interrogation, she confessed to killing Missy and stated that she felt good after doing so.
Molly Hagan also appeared on Stalker as the psychotic Nancy Dalton, on Bones as villainous conspirator Elsbeth King, and portrayed the evil Hilda Lake in Murder 101:  College Can Be Murder.
Molly Hagan later played psychotic villainess Cathy Rhodes in 2018's Long Lost Daughter.
Community content is available under
CC-BY-SA
unless otherwise noted.