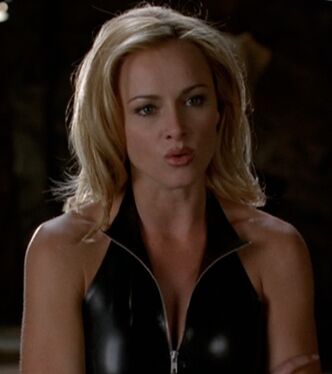 Elisa (Jennifer O'Dell) was the leader of a group of female demons in the 2004 episode "A Wrong Day's Journey Into Right" for the TV series "Charmed".
Elisa is a member of the Demonatrix, a tribe of lethal female demons. She appeared to be the leader of the tribe, and minion of Vincent Wrong (Gabriel Olds). They were used as assassins to track down and dispose of other lesser evil beings that Vincent Wrong considered a threat. They are easily identified by their blond hair, shiny black outfits, and their choice of weapons the Throwing Stars that they use to kill their victims.
Vincent Wrong hired them, and she accompanied him when he stole a Porsche for Paige Matthews (Rose McGowan). She nearly killed the salesman until Vincent saved him.
Elisa is later vanquished by Phoebe Halliwell (Alyssa Milano) when she was about to kill Piper Halliwell (Holly Marie Combs) with her shuriken. Phoebe had infiltrated the Demonatrix tribe, so they did not recognize her.
Jennifer O'Dell appeared as Jolene Kelso in the 1998 episode "Dead in the Water" for the TV series "Diagnosis Murder".
Jennifer O'Dell appeared as the villainous femme fatale Jackie DeMartino in the 2007 episode "The Ride-In" for the TV series CSI: NY.
Community content is available under
CC-BY-SA
unless otherwise noted.