watch 01:23
Wiki Targeted (Entertainment)
Play Sound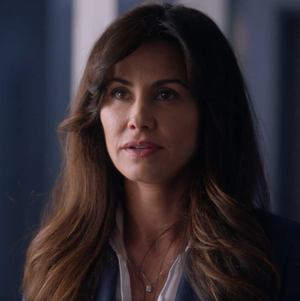 Elena Ruiz (Valerie Cruz) is a recurring villainess from the final two episodes of The Rookie's first season.
Elena Ruiz is a detective for Internal Affairs, and she first appeared in the season's penultimate episode, "The Checklist," next to Chief Williams and conducting a private hearing regarding officer Talia Bishop. It was revealed earlier in the season that Bishop had a foster brother who was engaged in criminal activities, but she left him out in her Personal History Questionnaire (PHQ), which led to the investigation. Ruiz was shown going over Bishop's list of black marks dating back to the previous year, and it was later on that officer John Nolan crashed the meeting and spoke in defense of Bishop, despite warnings from Bishop and Sgt. Wade Grey.
After the hearing ended, Ruiz informed Bishop that Nolan gave a good speech, and also that a decision could be made in "a week or two." Just as Bishop was walking away, however, Ruiz turned heel by blackmailing Bishop into becoming an informant for Internal Affairs, making an offer to Bishop that would have her spy on her co-workers and report to her in exchange for clearing her of all charges. The conniving villainess boasted that Williams took her recommendations seriously, and added that Nolan's speech wasn't that good before telling Bishop to think about her offer.
In the early scenes of the following episode (and season finale), "Free Fall," the evil Ruiz approached Bishop about her offer, which Bishop stated had her spying on her fellow officers. In response, Ruiz stated that what Bishop would be doing is keeping an eye on officers who cross the line, only for Bishop to remind Ruiz that she was crossing a line with her. Bishop added that she informed Ruiz's IA superior, Commander Percy West, regarding Ruiz's villainous actions, with West later appearing and informing Bishop that her case would be closed before taking Ruiz into his custody.
Trivia