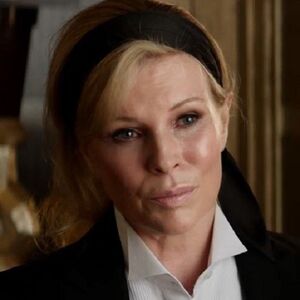 Elena Lincoln (Kim Basinger) is the villainess from the novel, Fifty Shades Darker, as well as the 2017 film under the same title. Her backstory reveals that she is a friend of Dr. Grace Trevelyan-Grey, the adoptive mother of Christian Grey. However, when Christian was only 15, Elena engaged in an affair with him, while introducing him into the BDSM experience.
Elena is introduced as Christian's business partner, which (given her past with him) alarms Ana. Elena later confronted Ana at a gathering, and warns her to break up with Christian, claiming that he would never be the man Ana wanted him to be and would never be satisfied with a "vanilla" relationship. Ana disregarded Elena's "warning", reminding Elena of what she had done to Christian and demanding her to stay out of their lives.
Later in the film, Elena confronted Ana again as she and Christian announced their engagement, which came after she was introduced as a friend of Grace. In a jealous rage, the evil Elena berated Ana and accused her of only marrying Christian for money, prompting Ana to toss her drink in Elena's face. The confrontation drew the attention of Christian, who informed Elena that she only taught him how to have sex and not how to love. After Grace overhears this, she throws out Elena, but not before slapping the villainess in her face.
Community content is available under
CC-BY-SA
unless otherwise noted.