Wiki Targeted (Entertainment)
Play Sound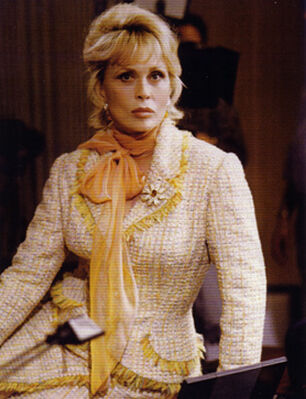 Elena Dubrow (Faye Dunaway) is a secondary antagonist in the 1996 film "Dunston Checks In".
Elena is the ruthless, mean-spirited hotel owner of the Majestic Hotel, which she rules with an iron fist. She is first seen arriving unannounced to inform Robert Grant, her hotel manager, that the Le Monde Traveler Organization has sent an anonymous spy to the hotel to see if it is worth a rating upgrade from 5 stars to 6. When Robert informed Dubrow that he would be unable to attend a photo shoot with her due to a planned vacation, she became very angry.  She forces him to cancel for the third time to satisfy her publicity lust. She also remarks that she will fire Robert if the hotel does not earn the 6th star.
Later Elena mistakes a jewel thief named Lord Rutledge as the critic and demands that Robert be extra nice to him.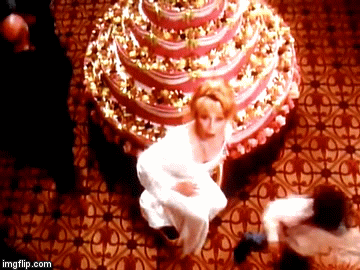 Close to the end of the film a crystal ball is held at the hotel. Dubrow takes credit for the event despite having not contributed to anything. An orangutan named Dunston crashed the party, and Dubrow ordered him shot by a hired animal control professional. The attempts failed and the ball ends up in total chaos. Dubrow tried to take her anger out on Robert's youngest son Kyle until Dunston intervenes by jumping into Dubrow's arms. This caused Dubrow to fall into the enormous Crystal Ball cake, much to her husband's amusement. Dubrow made one last attempt to shoot Dunston and possibly Kyle before Robert intervened and threw some cake into her face. This cost Robert his job, since she fired him.
Mrs. Dubrow was horrified that she had thought a jewel thief was the critic and that she had been ignoring the real critic Lionel Spalding all along. The Majestic was downgraded from a five star hotel to a one star hotel and Dubrow was ruined, humiliated and disgraced. Later Mr. Dubrow (most likely now her former husband) informs the Grants that she moved to Alaska.
Trivia
Faye Dunaway appeared as Milady de Winter in the 1973 movie "The Three Musketeers" as well as the 1974 sequel "The Four Musketeers: Milady's Revenge".
Faye Dunaway appeared as the villainess Barbara Skelton in the 1983 British drama film, "The Wicked Lady".
Faye Dunaway appeared as Selena in the 1984 movie "Supergirl".
Faye Dunaway appeared as

Joan Crawford

in "Mommie Dearest".
Faye Dunaway appear as Bonnie Parker in the 1967 film "Bonnie and Clyde"
Gallery