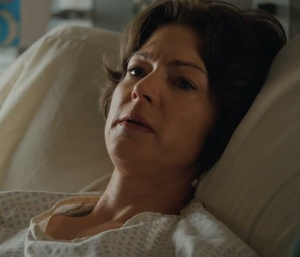 Elena Douglas
(Rya Kihlstedt) is a hidden villainess from "Possession," episode 3.04 of 
Perception
 (airdate July 8, 2014). She is the wife of Richard Douglas, and the couple served as the owners of a charity known as the Neighborhood Relief Project.
The charity had Silvie Patel as an employee, but she was shocked to discover that NRP was a front for an elaborate money laundering scheme. Silvie was even more surprised that it the money being laundered belonged to her family, having learned the truth from her mother, Victoria, who ordered Silvie to keep quiet about their criminal actions. Victoria ran over and killed Silvie in a twisted attempt to protect her family, and she later called Elena and Richard's lawyer, Brendan Voss, who stated that he would take care of the problem.
As instructed by Voss, Elena falsely confessed to killing Silvie to mask their role in the scheme. The villainess first confessed early in the episode, as she was shown believing to have been possessed by Satan and claiming that she killed Silvie and took her soul. During Elena's attempted exorcism, Dr. Daniel Pierce learned from a hallucination of Satan that Elena had a tumor which caused her delusions, leading to Elena being hospitalized. The tumor was successfully removed, but afterwards, the evil Elena continued her deceptive confession. This time, Elena claimed that she heard voices telling her that Silvie was evil and that she had to destroy her, as well as telling her to hide Silvie's body after killing her.
Suspicions towards Elena as Silvie's killer increased when Pierce theorized that she may have been sane at the time of the murder, as well as a revelation that Elena was hitting on Jake Forster, one of their employees, in an attempt to get back at Richard. Elena believed that Richard and Silvie were having an affair, leading Pierce to believe that Elena turned heel and killed Silvie in a vengeful rage, and feigned insanity to mask her persona as a cold-blooded killer. Elena was cleared of the murder when video of her sitting in her car at a parking lot for hours was uncovered, but her and Richard's role in the charity's money laundering scheme were uncovered during Victoria's reveal as her daughter's killer. The episode doesn't reveal Elena's fate, but it can be assumed that both she and Richard were arrested for their crimes.
Rya Kihlstedt is best known for playing villainess Alice Ribbons in Home Alone 3 and also appeared in 2019's Secrets in a Small Town as the evil Ruth Simmons.
On TV, Rya Kihlstedt appeared as the evil Linda Idleton on NCIS, as well as villainess Carolyn Logan on CSI.
Community content is available under
CC-BY-SA
unless otherwise noted.