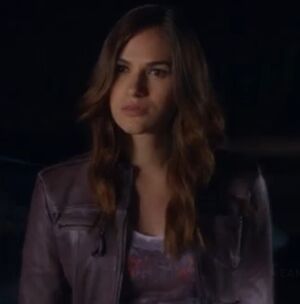 Elena Agronov
(Jennifer Missoni) was a villainess from "Who's That Girl?," the second episode of
Medium
's sixth season (airdate October 2, 2009). She was a stripper who was having an affair with Kevin Charles, a married man.
Elena was also blackmailing Kevin and demanding money in exchange for her silence about the affair, and one of Allison DuBois' visions showed Elena and Kevin meeting regarding the former's payment. As Elena herself stated, Kevin paid her more than the usual, which was meant to be enough for tuition and other means, and it was there that Kevin stated that he was done. However, the evil Elena ignored Kevin's statements and threatened to tell Kevin's wife about the affair, and at that moment, Kevin pulled out a gun. Elena attempted to claim that she was only kidding, but she ended up shot to death by Kevin.
Elena's vengeful spirit later possessed Allison's teenage daughter, Ariel, which led to Ariel behaving strangely. In her new vessel, Elena returned to her former workplace and purchased a gun, with intent on killing Kevin. Allison noticed Ariel behaving oddly, and it was after the vision of Ariel buying the gun that she realized that her daughter was possessed by Elena. Allison's confrontations often ended with Ariel (under Elena's control) denying the claims, and in the episode's climax, Allison had Devalos arrest Ariel for Elena's murder to protect her daughter.
Allison urged Elena to leave Ariel's body and move on, only for the callous, revenge-driven villainess to state that Ariel is going to prison for the rest of her life and that she would leave her body but only after Ariel is behind bars, doing so to make both her and Allison suffer for years to come. Just as Ariel was about to be officially charged and processed, Elena suddenly left Ariel's body, and it was later learned that it was due to Kevin being arrested for her murder.
"What are we doing here, Allison? Playing a game of chicken? Because, obviously, I'm not going to prison. Obviously, if you force me to, I will give up your daughter, but I promise you that I will do it at the last possible second. I will wait until I'm behind bars, and I'll make notes so that she understands exactly how it happened. And you...you will spend years trying to get her out, as she suffers through that hell, knowing that it was you who put her there." (Elena's vow to torment Allison and Ariel)
Community content is available under
CC-BY-SA
unless otherwise noted.