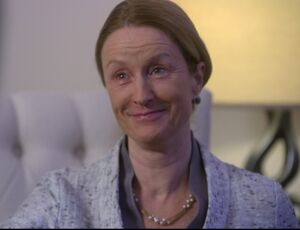 Elaine Frye Cavanaugh (Lisa Banes) is the true main villainess of "Totem," episode 12.20 of Law & Order: SVU (airdate March 30, 2011). She was a legal clerk and also the mother of half-sisters June Frye (a piano teacher) and Katie Cavanaugh.
Elaine was initially believed to have been deceased, as June stated that her mother had died, while claiming that her late father, Roger Frye, molested her as a child prior to him and his wife dying in a car accident when she was 17. During the SVU's investigation into the rape and death of one of June's students, Marnie Foster, it was revealed that not only was Elaine alive, but also that she was the one who molested June.
The villainess was implied to have been strict and abusive to June during her childhood; it was hinted at when she talked with Detectives Olivia Benson and Elliot Stabler, as Elaine voiced her displeasure over her first husband (June's late father) apparently "spoiling" her (in Elaine's twisted mind), while also disclosing that she divorced him prior to his death in the aforementioned car accident for that reason. It was then deduced by Benson that Elaine had used a wooden spoon to molest June, and later on, it was revealed that the callous villainess also abused and molested Katie (the daughter of her late second husband, Grant Cavanaugh) as well.
Elaine's sexual abuse traumatized both of her daughters, with June subsequently claiming that her mother was deceased, while Katie's trauma causing her to molest and murder Marnie hours before the opening minutes of the episode. When Benson and Stabler chased Katie into her bedroom, Elaine instructed them to get out of her bedroom, but not before Katie claimed that it was hers; that gave the indication that not only did mother and daughter share the same room, but also that Elaine's abuse was ongoing, much to Olivia's disgust. At the end of the episode, after Katie's confession to being Marnie's molester and murderer, Benson informed June that Elaine will be arrested for the abuse, as well as first-degree reckless endangerment in Marnie's demise.
Lisa Banes is perhaps best known for playing Lady Tremaine on Once Upon a Time.
Lisa Banes' other villainous roles include playing vengeful villainess Lucy Hendrix on Murder, She Wrote, and playing murderesses Esther Wilford and Edna Crocker on Rosewood and Psych, respectively.
Community content is available under
CC-BY-SA
unless otherwise noted.