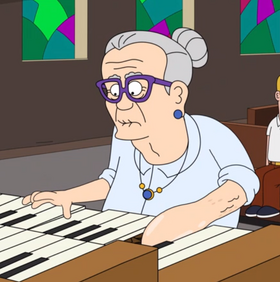 Edna Dorsal-Digits
 is a villainess from "Ass on the Line", episode 1.02 of Netflix's 
Paradise PD
 (airdate August 31, 2018). She was the church organist in Paradise, notable for having one of her arms being a deformed dorsal fin; likely a result of her being conceived through one of the many trysts that occured involving a dolphin at the Paradise Zoo.
The episode's current events revealed Edna as being one of only two surviving Paradise residents with dorsal fin mutations, the other being prominent drug dealer and dog fighter Frank Flipperfist. Her name came up along with Frank's when police dog Bullet received a bag of Argyle meth, a new drug in Paradise the police department was trying to get off the streets, from his AAA (All Addicts Anonymous) sponsor, with a flipper print on the bag indicating that one of them was selling the meth.
The episode's events have Kevin Crawford adamant that Frank was the Argyle meth dealer, even going undercover with Bullet at Frank's dog fighting club to get proof. But during the operation, when Kevin outright asked Frank if he had any Argyle meth, Frank adamantly proclaimed he didn't and wouldn't keep it near his dogs due to the drug (which contained chocolate) being lethal to dogs. Later on, as Kevin pondered with Bullet who could've been the true dealer, the scene flashed back to Edna to reveal the truth: she was selling Argyle meth, with the scene showing her selling the drug out of her church to a group of children. After giving the children a free first sample of Argyle meth, the evil Edna ordered them to leave so she could masturbate, describing to the children how she did so in grotesque detail.
Community content is available under
CC-BY-SA
unless otherwise noted.