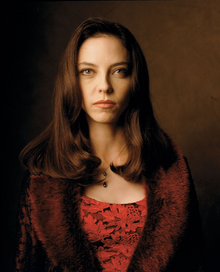 Drusilla (Juliet Landau) was a major antagonist in the TV series "Buffy the Vampire Slayer" & it's spin-off "Angel" Drusilla appeared in 24 episodes, 17 on Buffy & 7 on Angel.
Drusilla was a vampire who possessed innate psychic powers as a human.  She was tortured to insanity and sired by Angelus, who had murdered her entire family before her eyes in order to turn her into his masterpiece.  
Drusilla later sired a young London poet called William, who took the name Spike.  Spike became her long-time paramour. Drusilla was a dangerous adversary, and one of the few vampires to have battled both Buffy, Angel, and their respective teams over a prolonged period of time, while managing to survive to menace them another day.
Juliet Landau appeared as Dr. Veronica Shade in the 1995 film, "Theodore Rex".
Juliet Landau appeared as Dana Declan in the 2005 film, "Fatal Reunion".
Juliet Landau appeared as Natalya in the 2011 comedy movie "Monster Mutt".
Community content is available under
CC-BY-SA
unless otherwise noted.