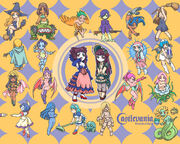 The types of minions who serve Count Dracula in the video game series "Castlevania" reach well into the hundreds. Many even share the same appearance between the games, though usually have different artificial intelligence.
Aliorumnas (アリオルムナス)

Edit
"Witches banished by the Gothic king Filimer."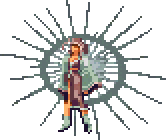 Alura Une and Blue Alura Une (アルラ・ウネ & ブルーアルラウネ)
Edit
"An Une fattened with copious pools of blood."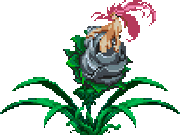 Amphisbaena (アンフィスバエナ)
Edit
"Nauseating two-headed beast. Which is the head?"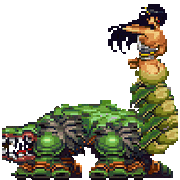 Arachne (アルケニー)
Edit
"This beast appears to be part woman, part spider."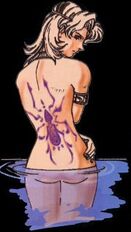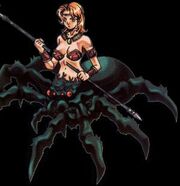 Queen Arachne (クィーンアルケニー)
Edit
Boss of the "Underground Tunnel" stage in both Reinhardt and Henry's quests.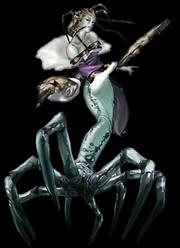 Astarte (アシュタルテ)
Edit
"A woman of irresistible beauty. No man can defy her will."

Collector (コレクター)
Edit
"This demon collects the severed heads of her victims."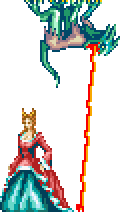 Coppelia (コッペリア)
Edit
"An acrobat from hell that entertains demons."

Dryad (ドリアード)
Edit
"Grows stronger by stealing HP from its enemies."

Durga and Kali (ドゥルガー & 
Edit
"A monster that feasts on the flesh of its victims."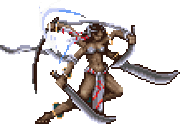 Erinys and Valkyrie (エリニュス & ヴァルキリー)
Edit
"The goddess of revenge."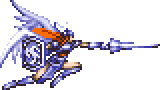 Frozen Shade and Heat Shade (フローズンシェイド & ヒートシェイド)
Edit
"A wraith that can freeze the air."



Ghost Woman and Ghost Dancer (亡霊女 & ゴーストダンサー)
Edit
"The spirits of nobles that dance with great elegance."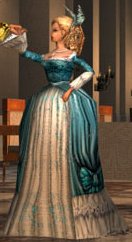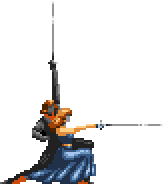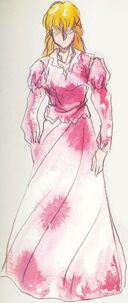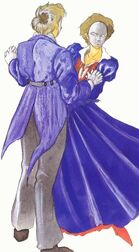 The Harpy Family
Edit
Harpy (ハーピー)
Edit
"A vicious bird-like creature with the head and torso of a woman."
Harpies are some of the most frequent female antagonists in the series, appearing in nearly every title. Later incarnations attack by launching feathers from their wings, as well as knives from their feet.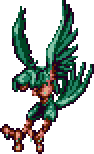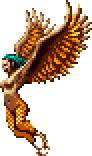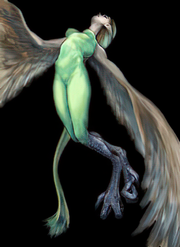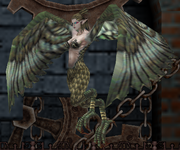 Siren (セイレーン)
Edit
"A beast whose beautiful singing voice has the power to mesmerize."

Lerajie (レライエ)
Edit
"An evil hunter. Uses ricocheting bullets to kill from afar."

Maid and Proserpina (メイド & プロセルピナ)
Edit
"A demon maid that served a noble master."




Mud Woman (ドロ女)
Edit
Encountered in the third stage of Castlevania Chronicles.

Nemesis (ネメシス)
Edit
"An angel who hunts and slaughters man-beasts."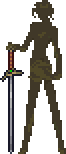 Nyx (ニュクス)
Edit
"The master of night."

Princess of Moth 
Edit
Boss of the Palace of Versailles stage.


Scarecrow (スケアクロウ)
Edit
"Quite a threat, if she only had a brain."

Scylla (スキュラ)
Edit
"Mythological sea monster."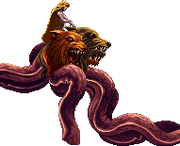 The Succubus Family
Edit
Succubus became a popular enemy after Symphony of the Night, often having several palette swapped counterparts as well.
Draculina (ドラキュリーナ)
Edit

Fallen Angel (ファレンエンゼル)
Edit

Lilim (リリム)
Edit
Lilith (リリス)
Edit
"An enchanting demon who deludes her victims with mystifying beauty."



Nightmare (ナイトメア)
Edit

Succubus (サキュバス)
Edit
"A demon that assumes the form of a beautiful maiden to drain vitality."





Werebat (ワーバット)
Edit

The Witch Family
Edit
Different names, but similar attacks and appearances.
Saugeen (サウジーネ)
Edit

Witch (ウィッチ)
Edit


Pixie (ピクシー)
Edit

Wolf Woman (狼女)
Edit
Boss of the "Clock Tower" stage.

Community content is available under
CC-BY-SA
unless otherwise noted.