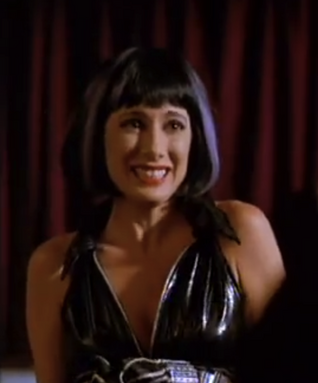 Dr. Watt (Diane Robin) is a minor villainess in the 1996 comedy movie "Santa With Muscles".
Dr. Watt was the henchwoman for the evil scientist Ebner Frost.  Frost was attempting to take over an orphanage in order to gain access to the magical crystals underneath it.
Ebner Frost's team was made up of four scientists, Dr. Flint (Geology), Dr. Blight (Botany) and Dr. Vial (Chemistry). Dr. Watt was known as electrofying, since anything she touched became electrofied.
In the film, the plan was foiled by the fact that Blake Thom (Hulk Hogan) got amnesia and thought he was Santa Claus.  
In her final scene with Blake Thom, she is just about to electrocute him, when Lenny pours a bucket of water over her from elevated choir section of a church.  As a result, Dr. Watt is electrocuted herself and knocked out.  We later see her tied up in the back of a paddy wagon being sent to jail.
Last we see her dressed in prison attire as she is picking up garbage in the prison yard along with her gang.
Diane Robin appeared as Stark in the 1995 family comedy film "Goldilocks and the Three Bears".
Community content is available under
CC-BY-SA
unless otherwise noted.