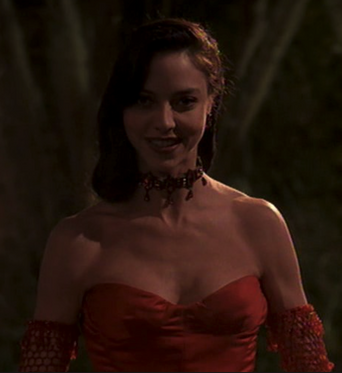 Dr. Veronica Shade (Juliet Landau) is a minor villainess in the 1995 film, "Theodore Rex".
The movie is set in a futuristic society where humans and dinosaurs co-exist.  A Tyrannosaurus named Theodore Rex is teamed with Katie Coltraine (Whoopi Goldberg) to find the killer of dinosaurs and other prehistoric animals.  The search leads to a ruthless billionaire named Elizar Kane (Armin Mueller-Stahl) who is bent on killing off manking by creating a new ice age.
Veronica is Kane's personal physician, scientist and henchwoman.  
In one portion of the film, she is ordered to shoot Kane's other henchman, Spinner (Bud Cort) with a lazer.  She then uses the lazer to subdue both Theodore and Katie.
Kane is the scientist who originally brought the extinct creatures back to life in the first place.  Now he plans to freeze them again to create the new ice age, an environment dinosaurs would die out in.  This would also kill all of human life in the process.  He plans to send animals and dinosaurs in pairs of two up in a space rocket, similar to Noah's Ark.
At the end of the film, she is leading Theodore to the cryogenic type pod to have him frozen next to his girlfriend, Molly.  Just as she is about to give him a shot, he swings his tail and knocks her into the cell, and then closes the door.  Veronica pleads with Theodore to let her out, but she is frozen and sealed inside.
Juliet Landau appeared as Dana Declan in the 2005 film, "Fatal Reunion".
Juliet Landau appeared as Natalya in the 2011 comedy movie "Monster Mutt".
Juliet Landau appeared as evil vampiress Drusilla on Buffy the Vampire Slayer from 1997-2003.
Community content is available under
CC-BY-SA
unless otherwise noted.