Dr. Girlfriend is a major villain in the 2003-2018 Adult Swim animated TV series "The Venture Bros."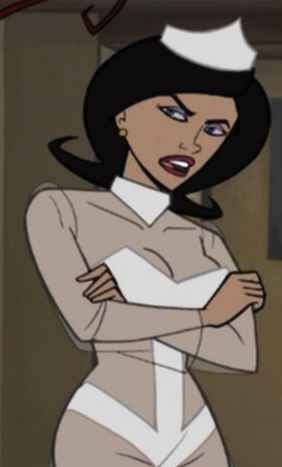 Dr. Girlfriend is known by several names.  She is the girlfriend, assistant and later the wife of The Monarch.  Her real name is Sheila.
She was introduced into the world of supervillainy by her former lover Hamilton Fantamos and took her place by his side.  She fell in love with one of his henchmen, who back then was the Monarch, before he started his career.  They had an affair and she eventually left Phantom Limb for him.  By the time The Monarch started his career, they spent their time antagonizing Dr. Rusty Venture, and she was even used to attempt to seduce him.  Near the end of the first season, they broke up and she went back to the Phantom Limb.
Monarch was framed by the Phantom Limb for the murder of a police officer.  This was both an act of revenge and as part of a scheme to take over the Guild of Calamitis Intent.  The Monarch innocence was proven and eventually, Dr. Girlfriend started having an affair with him again.  The two of them decided to get married.  The wedding however, was attacked by Phantom Limb's forces before Phantom Limb's plan crashed.  The Monarch and Dr. Girlfriend went on their honeymoon shortly thereafter.
Once married, the Guild assigned them as the archenemies of Jonas Venture Jr., but The Monarch used this as a loophole that allowed super-villains to antagonize relatives of their nemesis.  
In season four they helped comfort Henchmen 21 after the death of his friend, Henchmen 24, molding him to be their top henchmen "Two Ton Twnety One".
Community content is available under
CC-BY-SA
unless otherwise noted.