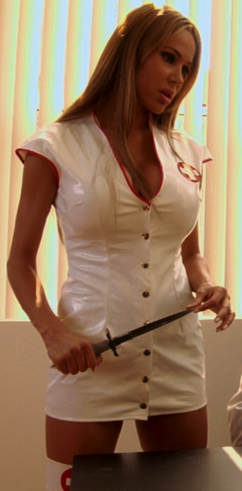 Double Delicious (Tabitha Taylor) is a minor antagonist in the 2009 action, adventure, comedy "Minty: The Assassin".
Double Delicious is the sidekick/henchwoman of Dr. Brain Bender (Chip Joslin), the evil neuro-scientist who has kidnapped Big Boss (Anthony Ray Parker) in order to trap the hero Minty (Elina Madison).
Minty is a raven haired female super heroine, that gets her super powers from eating chocolate, a good source of antioxidants.  When Minty's agent and mentor, Big Boss is taken hostage, Minty fights her way up various floors of Dr. Brain Bender's Cock Tower to rescue him.  Along the way, she encounters various villains that stand in her way.  These include Captain Capability (Hawk Younkins), a freak of nature; Sensational Ninja (McKay Stewart), an effeminate assassin; Rat Monster (David A. Lockhart), a depressed mutant; Bruce Zee (Elan Tom), a psycho martial artist; Molly Leviathan (Jacki R. Chan), a sensual super vixen; Zen Cowboy (Ricardo Mamood-Vega), a bindfolded gunslinger; and finally Double Delicious, who is an intellectual lesbian vampire.
In Minty's first encounter with Double Delicious, the two play footsie while sitting at a table.  Often during the film, the characters change into cartoon-mode.
When Minty finally meets Dr. Brain Bender and Double Delicious.  Dr. Bender takes over Double Delicious' body and a long sex scene ensues.  Double Delicious has her nurses outfit removed, and for a brief moment she is topless.  However, she soon has butterfly pasties over her nipples.  Minty cuases DD to orgasm and breaks the doctor's control.  She then kills Dr. Brain Bender and saves Big Boss.
Tabitha Taylor appeared as Blonde Villainess in the 2002 music video "Objection Tango" for the singer Shakira.
Gallery  
Edit
Community content is available under
CC-BY-SA
unless otherwise noted.