Wiki Targeted (Entertainment)
Play Sound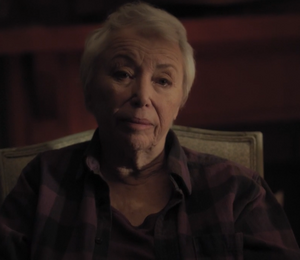 Doris (Elaine Partnow) is a hidden villainess from the 2018 Lifetime film, House of Darkness: New Blood (airdate September 7, 2018). She is introduced as the proprietor of a diner located in a small country town, where Judd took fiancee Brooke (the main protagonist), and her son, Dylan.
Doris appeared to be friendly to both Brooke and Dylan, but as revealed in the climax, she is a member of a sinister cult, who has killed various children in order to find the one they believe to be their new leader. The reveal came when Brooke (who learned the truth about Judd's twin brother, revealed to be one of the victims) was abducted by one of the members, and she was shown tied up and facing Doris.
At that instant, the evil Doris stated that Dylan had abilities and that he would be their new leader and maintain their way of life, which would result in the entire cult living forever. Judd was revealed to be part of the conspiracy later on, as after Doris ordered her fellow members to take Brooke away, Judd stated that he killed Brooke's first husband to get him out of the way. Judd ended up slashing his own throat, and the film ends without revealing Doris' fate.