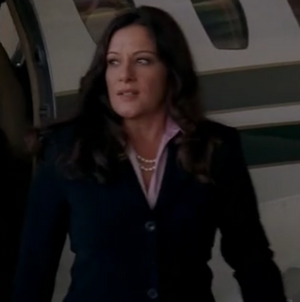 Dolores Ramos
(Bertila Damas) is the main villainess from "The Girl in Suite 2103," episode 2.06 of 
Bones
 (airdate October 4, 2006). She is a Colombian judicial representative visiting America as a keynote speaker at an anti-drug traffic conference. 
However, Dolores had found out that her husband, Juan, was having an affair with Lisa Winokur, a blonde waitress. Lisa also set her sights on their son, Antonio, which infuriated Dolores. Dolores turned heel and strangled Lisa to death with her silk scarf in a fit of rage, as well as crushing her victim's vertebrae with her stiletto while committing the murder in Lisa's hotel room. After killing Lisa, the evil Dolores set a fire to cover up the murder, which ended up causing the room next door to be blown up, killing four people.
Due to the shadow being six feet tall, Brennan and Booth believed that Juan had committed the murder, but after seeing video of Dolores and noticing that she was 5'9" and wearing three-inch heels, it was concluded that Dolores was the killer. Due to the family having diplomatic immunity, Dolores would get away with her villainous deed in the States and only face charges back in Colombia. However, Colombia's Attorney General didn't favor Dolores, and she would face being imprisoned in a jail full of drug cartel soldiers who would most likely kill her. With all of that, Dolores waived her diplomatic immunity, and she was properly arrested.
Community content is available under
CC-BY-SA
unless otherwise noted.