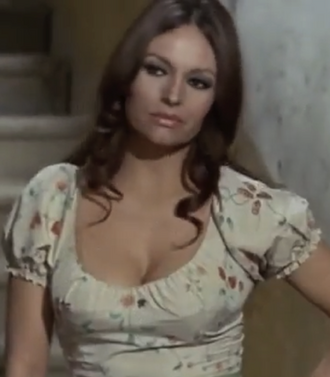 Dolores (Diana Lorys) is a minor antagonist in the 1971 Spaghetti Western Comedy "Bad Man's River", which was also known as "Hunt the Man Down".
Dolores is the girlfriend of Col. Enrigue Fierro (Sergio Fantoni), the leader of the Revolutionaries.  She is first seen when the captured gang of bank robber Roy King (Lee Van Cleef) is brought into Col. Fierro.  It is learned that Dolores is responsible for King and his men being brought in.  Fierro thanks her, but then notices one of the members of the gang is Alicia (Gina Lollobrigida), who kisses him in front of everyone.  Fierro is immediately at a loss for words, and Dolores is furious for her man to give Alicia the attention.
It seems that Alicia was working with Francisco Paco Montero (James Mason), a Mexican politiician, to help bring in King and his men.  Col. Fierro had them all put behind bars including King and Montero.
Later, when the Mexican army begins an assault on the Revolutionaries, King and his men are released in order to help them escape from the army.  
Last we see Dolores, King, Alicia, and the rest of the gang show up at the bank in order to cash a check.  It all checks out, but once the money is handed over to them, Jesse James and his gang robs them.  Alicia leaves them all at the bank, and goes with Jesse James and the money.
Last we see of Dolores is her in the back of a stagecoach counting the money along with her father.  Jesse James and his gang are alongside shooting back at King and his gang.  It is assumed that Dolores is with them.
Diana Lorys appeared as Bertha Zemis in the 1969 horror film "Fangs of the Living Dead", which was originally entitled, "Malenka, the Vampire's Niece".
Community content is available under
CC-BY-SA
unless otherwise noted.