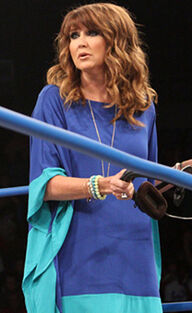 Dixie Carter is the former president of TNA, where she served as a main villainess.
Dixie's TV time on Impact Wrestling was mostly sporadic, but in the few times she appeared, she originally served as a babyface. Dixie turned heel on September 19, 2013, doing so in a segment with AJ Styles that ended that evening's edition of Impact Wrestling. It was a week after AJ won the Bound For Glory Series, and AJ called out Dixie regarding the several mistakes she has made while in charge. Dixie responded by verbally snarling at AJ, stating that he wasn't a great wrestler and (in so many words) he would be nothing without her. After the verbal lashing, Dixie cut off AJ's microphone and shut off the lights to prevent AJ from talking any further.
In the aftermath, the evil Dixie became obsessed with taking down AJ, even putting a bounty out on him in the weeks leading to Bound For Glory. At the event in October, Dixie attempted to prevent AJ from winning the World Title from Bully Ray, but she was thwarted. After AJ turned down Dixie's attempts to appease him, the power-mad villainess decided not to recognize AJ as World Heavyweight Champion and instead hold a tournament to crown a new champion. With the help of her lackey Rockstar Spud and her nephew Ethan Carter III, Magnus won the title by defeating Jeff Hardy in the finals.
After AJ returned to Impact, a title unification match between AJ and Magnus took place in January 2014. Dixie had all of AJ's friends kicked out of the building before the match, which had several heels interfering in Magnus' behalf. After Magnus won, Dixie tore up AJ's contract; laughing evilly at the concept of being rid of AJ.
Dixie's next feud was with Bully Ray, after the events of Lockdown. In a Lethal Lockdown Match pitting Dixie's team against a team led by MVP, Bully Ray was brought in as Dixie's supposed insurance policy, only for Bully to prevent Bobby Roode from getting the victory for Team Dixie. As a result Team MVP won the match, giving MVP full control of TNA. Dixie's feud involved her constantly claiming that "Bully fears Dixie," and she even shoved Bully through a table while disguised during Bully's match against EC3. Since then, Bully has promised to put Dixie through a table; a promise that Dixie taunted him about every time his attempts failed. On the August 7 edition of Impact Wrestling, Dixie was put through a table by Bully.
Community content is available under
CC-BY-SA
unless otherwise noted.