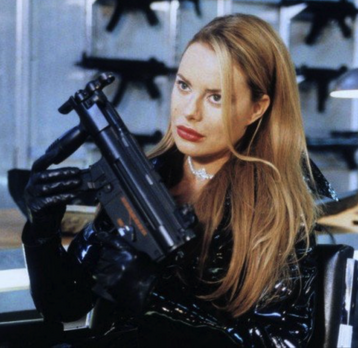 Die Amazone (Xenia Seeberg) is a henchwoman in the 2001 German comedy film "Schwarz & McMurphy", which was originally titled, "Die Grosstradt-Sheriffs".
Die Amazone acts as a henchwoman in the film.  She engages in an arms smuggling, and we see her take the lead role in an arms deal.  
In a raid of the gangs arms deal, she gets in a catfight with the hero's partner Samantha (Sandra Leonhard), where she receives a slash to her face.  She eventually turns the table on her enemy by knocking her down a flight of stairs to her death.  She is about to be hancuffed by special agent McMurphy (Tyrone Ricketts), but is able to get away.
The high-tech weapon is later traced back to a Berlin manufacturer, and Schwarz and McMurphy head there to uncover the arms-smuggling ring that is headed by the amazon.
Later Die Amazone kidnaps a girl and uses her as bait.  However, the exchange goes terribly wrong.  According to reports, at the end of the movie, Die Amazone is shot, files into a wall and a disco ball lands on her head with the music still playing.  As a result, Die Amazone is defeated in a comical way.
Xenia Seeberg appeared as Mona in the 2005 German film "Der Clown".
Community content is available under
CC-BY-SA
unless otherwise noted.