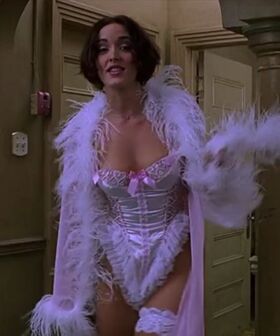 Diane (Janet Kidder) is a part of a con-artist couple, with her husband in the 1998 comedy slasher film, 'Bride of Chucky'.
They purposely run into Jesse and Jade in their suite, with Diane dressed in lingerie . They pretend to be newlyweds, and act as if they had booked the suit to begin a diversion of their theft operation.
With the protaginists distracted the beautiful Diane steals Jesse's wallet as the living doll Tiffany watches the whole thing happen. Diane and her husband begin to flirt suggesting both couples could spend the night together but are quickly declined on the offer and escorted out of the suite.
The demise scene begins with Diane in bed counting the money with a smug grin on her face before she is pounced on by her husband and the couple begin to make love. Diane is enjoying herself until she sees a reflection of Tiffany holding a champagne bottle in the ceiling mirror and her face quickly drops In horror, the evil doll throws the bottle up at the mirror and shards of raining glass fall down instantly killing the pair of thieves.
Chucky then pulls the ring off Dianes decapitated finger and proposes to Tiffany.
Janet played a villainess In season 4 (2015-2016) of Arrow named Ruve Adams.
Janet Kidder also portrayed Kick In the 2001 action thriller movie "Dead Awake".
Community content is available under
CC-BY-SA
unless otherwise noted.