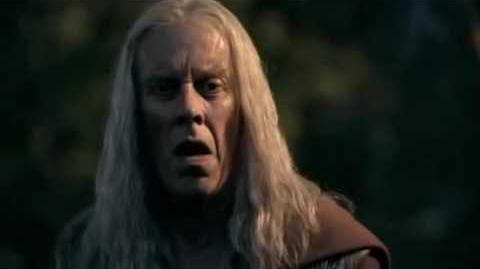 Denna (Jessica Marais) was an antagonist in four episodes from 2009-2010 for the TV series Legend of the Seeker.
Denna was a Mord-Sith in a service of Darken Rahl. She was later killed by Cara, who shot an arrow into her back, causing her to fall off a cliff. Mord-SithEdit Denna was the Mord-Sith who was ordered to capture Richard Cypher and train him. She succeeded, but Richard's love for Kahlan Amnell let him escape the effects of being trained. He and Kahlan escaped the Mord-Sith temple, but not before Richard had killed Denna. However, another Mord-Sith, Constance, revived Denna with the Breath of Life. Darken Rahl punished her severely for letting the Seeker get away, and then he ordered her to find the pristinely ungifted one, Jennsen Rahl, and have her bring to him the third Box of Orden.
Again, Denna succeeded but the Seeker came upon them and Denna took Jennsen's mother captive (who was also, unbeknownst to her, Zedd's daughter and Richard's mother) in exchange for the third box. To make it more pressing for the Seeker after she realized the woman was important to him, she killed her with her agiel and would only give her the breath of life if they brought the third box back to her. He acqueises but places the boxes together and siezes power. The Seeker then orders his friend to beat Denna into submission. Denna becomes both obedient and fearful and sheds a tear as she is slapped.
Season 1 Episode 16: Bloodline
Community content is available under
CC-BY-SA
unless otherwise noted.