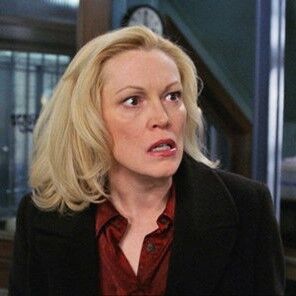 Denise Eldridge (Cathy Moriarty) was a villainess from "Intoxicated", episode 6.19 of Law & Order: SVU (airdate March 29, 2005). She was the mother of Carrie Lynn Eldridge, with her husband abandoning her when she learned she was pregnant. As a result, Denise grew to hate her daughter, blaming her for her husband's departure, and became a bitter alcoholic who regularly abused Carrie both physically and emotionally. She also greatly disapproved of Carrie's boyfriend, Justin Sharp.
At the episode's beginning, Denise caught Carrie in the midst of making out with Justin (having possibly had sex with him). Believing that the two were intimate, Denise called the police and reported Justin for statutory rape, as Justin was 21. When Benson and Stabler began questioning the mother and daughter, Denise falsely said that Carrie was a rebellious teen and that she was only looking out for her daughter's well-being, with both claims being refuted by Carrie. Afterwards, Denise angrily confronted Carrie, saying that Justin would turn out to be just like her father and calling her an "ungrateful slut". Denise then announced her plans to file charges against Justin, smugly saying that she would force Carrie to have a rape kit done to get the medical evidence she needed. But just as the examination was about to be done, child rights attorney Simone Bryce arrived (having been called by Benson) and stopped the test from being done, much to Denise's outrage.
Later on, Denise arrived at the SVU squad with Carrie's bedding and copies of emails between her and Justin, claiming it was proof that she had been raped by Justin. When Captain Cragen told her that they couldn't make a case from what she had given them and that the only charge they could file against him was endangerment of a minor, which would be a weak case, Denise decided to go to the ADA herself and also tried to have Stabler and Benson charged for not taking her case. On another night, when Carrie tried to confront her mother about how Justin had broken up with her because of her behavior, she coldly began drinking and proclaimed she would not stop her vendetta against Justin, even planning to have him fired from his job. This led to a fight in which Denise beat and insulted Carrie, ultimately causing her to snap and bash her head in with a lamp, killing her villainous mother.
Cathy Moriarty appeared as Montana Moorehead in the 1991 comedy film, "Soapdish".
Cathy Moriarty appeared as Alison Peters in the 1992 episode "Seance" for the TV series "Tales From the Crypt".
Cathy Moriarty appeared as Carrigan Crittenden in the 1995 family film "Casper".
Community content is available under
CC-BY-SA
unless otherwise noted.