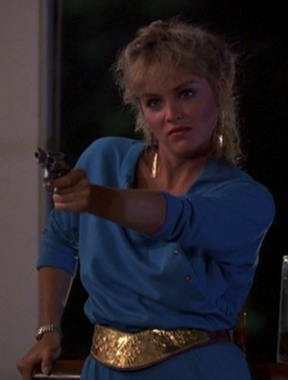 Dedre Dupres/Diane Dupres is the protagonist and the hidden main antagonist in the 1984 two-part episode "Echoes of the Mind" for the TV series "Magnum P.I."
The episode begins in what appears to be two sisters driving in a car and arguing with each other.  We learn that they were both kidnapped as children.
Diane hired Magnum (Tom Selleck) to protect her, since she is very paranoid and believe that people are out to get her.  Her hysteria has led her to a history of attempted murder.
Magnum finds himself in trouble, when he starts to fall for Diane.  In the episode, Diane and Magnum get involved in a steamy shower scene, which was only the second "shower scene" in network primetime TV with sexual overtones.
As it turns out Dedre had died during the kidnapping, but since Diane had not been able to cope with her death, she believed that her sister was still alive.
Magnum is forced to uncover the truth about Diane's sister, so that she can escape the demons.  However, Diane points a gun at Magnum, telling him that she must kill him to keep surviving.  When Magnum tells her that Dedre is dead, Diane shoots the lamp next to him, and calls him a liar.  Magnum tries to tell her that she can live without her sister, but Diane shoots herself.
Community content is available under
CC-BY-SA
unless otherwise noted.