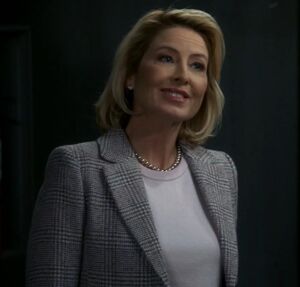 Debbie Stovelman (Kate Butler) is the hidden main villainess from "NutriBoom," episode 5.16 of Brooklyn Nine-Nine (airdate April 15, 2018). She is the head of the titular NutriBoom company, a pyramid scheme that has Bill (a Charles Boyle lookalike who Jake Peralta used in a recent Halloween Heist) as a member.
In the episode, Debbie was introduced as the deceased wife of the founder, David Stovelman, with Jake and Charles seeing her photo on a poster while attempting to investigate and take down NutriBoom. After Jake found a $100,000 payment to ScepterCore, a security company that deals in black ops, he and Charles were led to the conclusion that David paid to have Debbie killed, and they enlisted Jay Chandrasekhar (NutriBoom's celebrity spokesman) to help take down David.
However, in a twist, the duo not only find Jay fully back in with NutriBoom, they also encounter Debbie, who is alive and well. As it turned out, Debbie paid the $100K to ScepterCore to get her off the grid due to the FBI investigating her scheme, and it was following Jake's revelation that Debbie revealed herself as the true head of NutriBoom. Following the reveal, the evil Debbie told Jake and Charles to halt their investigation and even bribed Jake with the money that was lost in the scheme (their reason for entering Nutriboom), which was enough for his honeymoon with Amy. Jake tore up the check, and the episode ended with Jake telling Amy his intel could help the FBI take down Debbie, but it wasn't hopeful.
Community content is available under
CC-BY-SA
unless otherwise noted.