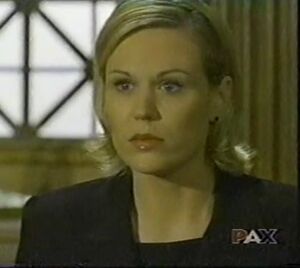 Debbie Gardner (Jennifer Sommerfeld) is the main villainess from "Murder Two," episodes 4.15 and 4.16 of Diagnosis Murder (airdates January 30 and February 6, 1997)
Debbie Gardner is a stuntwoman and the sister of fellow stuntwoman Paula McCarthy, who was found beaten to death in the beginning of the episode. Paula's husband, Barry McCarthy, was arrested for the murder in Part 1, but as revealed in Part 2, Paula was killed by Debbie and her husband Jack, as part of Debbie's evil plan to gain her sister's fortune.
Debbie and Jack brutally beat Paula to death, while nurse Jeri Murdico planted Barry's blood and hair on Paula's fingernails. Debbie was encountered by Ben Matlock on the set of her film, and to keep him from finding out the truth about Paula, the evil Debbie sent Jack to attack and attempt to kill Matlock. Unbeknownst to Jack, this was part of Debbie's plan to eliminate him, as she jumped in the pool and killed her husband in order to save Matlock.
During the trial for Jesse Travis, who was charged with killing Dr. Eric Spindler, not only was Debbie's role in her sister's death revealed, but it was also revealed that she went on a trip to Mexico to acquire the monocaine that Jeri used to kill Spindler and frame Jesse. Debbie was arrested and charged for her crimes.
Community content is available under
CC-BY-SA
unless otherwise noted.