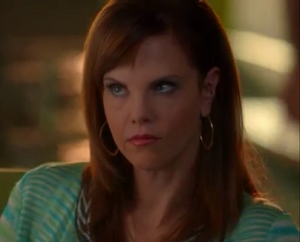 Darla Chambers
(Kiersten Warren) is a hidden villainess from "Crowned," episode 10.11 of
CSI: Miami
(airdate December 11, 2011). She is the director of the Royal Azalea child beauty pageant, working alongside her husband, Edwin Chambers.
However, as later revealed, the pageant as a whole was a front for their true mission: Edwin was a pedophile, and Darla helped him use the pageant to help abduct the young girls to feed Edwin's twisted desires. Their backstory revealed that one of the girls that the villainous couple abducted was Jan Gramercy, the older sister of contestant Melrose Gramercy, with the abduction occurring years prior to the episode's events. Jan was taken to an abandoned theater, where she was molested by Edwin.
In the episode's events, the evil Darla set her sights on Melrose, before switching to fellow contestant Tori Haverford. The villainess recorded videos of Tori and showed them to Edwin, after which Edwin abducted Tori. The episode's main case involved the death of Jan and Melrose's mother, Suzanne (which was later revealed to be purely accidental), but Calleigh Duquesne ended up uncovering the abduction plot when Tori went missing. She later found the videos of Melrose and Tori and ended up revealing Darla as a villainous conspirator to her husband's pedophilia, claims that Darla denied on two occasions.
Darla--with her lawyer present--was interrogated by Horatio Caine regarding Edwin and Tori's whereabouts, with Darla making claims that she was forced to assist Edwin, stating that he would have killed her. Horatio continued pressing Darla, who finally revealed that Edwin takes his victims to "a private place" on Tuesday afternoons. The place was revealed as the nearby theater, where Natalia Boa Vista rescued Tori while Edwin ended up falling to his death in his encounter with Horatio. It can be assumed that Darla was arrested (off-screen) for her collusion.
Kiersten Warren later played greedy villainess Sylvia Knowles in 2015's Girl Missing.
Community content is available under
CC-BY-SA
unless otherwise noted.