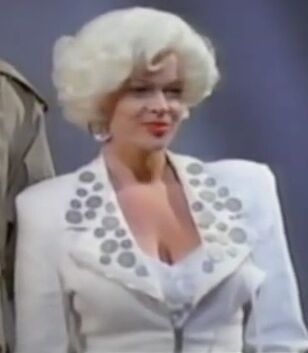 Darla (Tracy Lynn Roberts) is a henchwoman and antagonist who appears in 13 episodes of the TV series "Superboy".
Darla first appeared on the show as a strip club dancer. She played the companion and partner in crime to Lex Luther (Sherman Howard) during seasons 2, 3, and 4. For the most part she stayed out of the limelight during the second season, merely posing as the arm candy for Luther. However, by season three, her character was expanding. Eventually, Darla was going toe to toe with Superbly (Gerard Christopher). She gained special mind powers and became a dangerous foe. By season four, Darla was in a league of her own, and the show gave her billing in the episode, "Darla Goes Ballistic".
Darla was always dressed in a sexy way.  She wore short skirts that showcased her legs.  In season two, she wore her hair long and frizzy.  By season two, it was curled and she wore it short.
Early in the series Darla got into a catfight with Lana Lang (Stacy Haiduk), and after she received her powers further along the series, she later kidnapped her.
The actress Tracy Lynn Roberts is also known as Tracy Lewis.
Community content is available under
CC-BY-SA
unless otherwise noted.