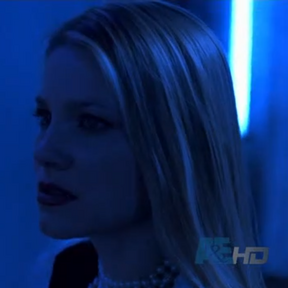 Cynthia Montgomery (Kylee Cochran) was the villainess of "Payback", episode 2.04 of Crossing Jordan (airdate October 14, 2002). She was a spoiled teen from the wealthy Montgomery family who was arrested outside a nightclub, having killed five people after plowing her family's SUV through the line of people waiting to enter. After being arrested and placed in a police cruiser, Cynthia began angrily kicking and demanding to be released, and also insulted arriving medical examiner Jordan Cavanaugh.
Later on, Cynthia died while still in police custody, with Detective Woody Hoyt being suspected of causing her death via excessive force, which was seemingly confirmed by bruises found on Cynthia's body. As she began investigating the case to prove Woody's innocence, Jordan learned what had driven Cynthia to her villainous act and what led to her demise.
Cynthia was dating Thomas Harrison IV, a boy from the wrong side of the tracks. One day, after an intense argument with Thomas, Cynthia followed him to the club, where she became furious when the bouncer refused to let her inside. When Cynthia saw that Thomas was waiting in line to get in, the evil Cynthia got into her car and plowed through the line to get to him, killing Thomas and four other bystanders. As for her death in police custody, it was uncovered by Jordan that Cynthia and Thomas were constriction fetishists, and the bruises found on their bodies were a result of using a constriction vest found in Cynthia's closet. Her habit resulted in Cynthia breaking a rib, which punctured her liver and resulted in the villainess slowly bleeding to death.
Community content is available under
CC-BY-SA
unless otherwise noted.