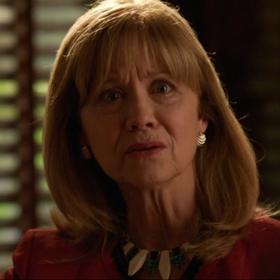 Constance Lamoureux
 (Elizabeth Fendrick) is the main villainess of "Deep Waters", episode 1.07 of 
Reckless
 (airdate August 17, 2014). She was the wife of wealthy developer Dean Lamoureux, who initially appeared to have disappeared following a boating accident where his yacht crashed into a city-owned buoy. Constance appeared on television in the episode's beginning discussing her husband's disappearance, with Jamie Sawyer contacting her and persuading her to join a lawsuit in having the buoy fixed, as it had caused three previous accidents.
However, soon after joining the suit, Dean's body was found in the marina and city attorney Roy Rayder learned that the location of Dean's corpse made it impossible that Dean fell from his boat after crashing into the harbor buoy, indicating that Dean's death was murder. While Constance appeared shocked over the reveal, it was later revealed that this was a cover for her true role as the mastermind behind Dean's death. After learning that Dean was having an affair with Rosa Hamilton, the CFO of his company, she informed Rosa's husband Wayne of the relationship and enlisted him in a plot to kill Dean.
The plot had Wayne attacking Dean on his boat, drowning him in the toilet and throwing his body overboard, later crashing the boat to make it appear that Dean's death was a result of another accident caused by the defective buoy. While Constance promised Wayne half of Dean's insurance money in exchange for his services, the villainess instead used Wayne's cufflinks to implicate him in Dean's murder, placing one on the boat and another in Wayne and Rosa's house. Constance's plan succeeded, with Wayne being brought in for interrogation by officer Terry McCandless. Wayne eventually revealed Constance as having put him up to kill Dean, but upon revealing how there were no physical evidence of the arrangement, Terry informed Dean that he couldn't prove anything against her. Constance's final scene showed the villainess leaving town on a plane, having a drink before lying down in her seat to sleep.
Community content is available under
CC-BY-SA
unless otherwise noted.