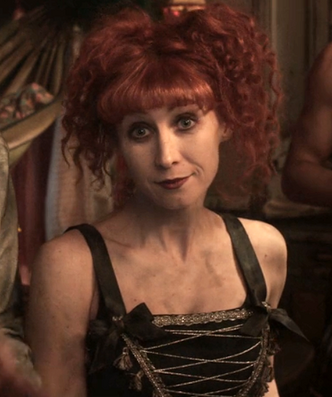 Colette the Contortionist (Bonnie Morgan) was a minor antagonist in the 2018 two-part episode "The Carnivorous Carnival" for the TV series "A Series of Unfortunate Events".
Colette worked at Caligari Carnival alongsice Hugo and Kevin in the House of Freaks before she joined Count Olaf's troupe.  While with Olaf, she considered her unusual ability an abnormality instead of a talent.  She along with members of the House of Freaks and members of Olaf's troupe engaged in a sort of pity contest, trying to outdo each other in terms of whom as the most freakish and had the most unfortunate abnormalities.
Colette disguised herself as a chemist in a long white coat and a mask such as surgeons or chemists wear over their noses and mouths.  She along with Kevin and Hugo eventually revealed their identities to the Baudelaires.  
When Dewey Denouement was killed, she called the Baudelaires twisted when Count Olaf claimed the Baudelaire children were too treacherous to allow to move freely around the hotel.
During the trial of the Baudelaire children and Count Olaf, Colette submitted some drawings as evidence.  When the Hotel Denoument Fire was started, Hugo, Colette and Kevin were last seen on one of the floors holding the bird paper that Klaus hung on the outside of the sauna.  Colette was talking about plucking off the feathers of crows.  It is unknown whether or not Colette survived the hotel fire.
Community content is available under
CC-BY-SA
unless otherwise noted.