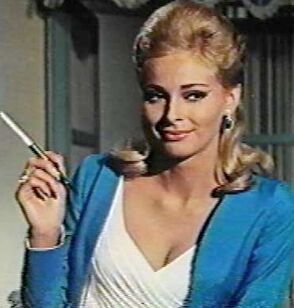 Coco Duquette (Camilla Sparv) is the evil assistant to Dr. Julian Wall (Karl Malden) in the 1966 Matt Helm spy-fi film, "Murderers' Row". Coco is played by the sexy Swedish starlet, Camilla Sparv.
Coco is the mistress of Dr. Julian Wall (Karl Malden), who is a diabolical "Dr. No" villain who has his own island lair. He is on a quest for world domination along with his cohorts in the Brotherhood of International Government and Order. Dr. Wall kidnaps Dr. Norman Solaris (Richard Eastham), who has invented a heliobeam, a weapon capable of cataclysmic destruction.
Matt Helm (Dean Martin), a ICE agent (Intelligence and Counter-Espionage) attempts to rescue Solaris before he is brainwashed into using the heliobeam. Helm poses as a gangster, seducing Solaris' daughter, Suzie (Ann-Margret).
Coco first appears with a pistol. She later has a freeze gun, which Helm uses to freeze Big O thugs. It takes at least 10 seconds to freeze someone. Coco later drugs Helm with a drink, who intentionally gives away his identity by grabbing a drink and kissing her.
Coco tries to stop Wall from killing Solaris. Coco is then shot in the chest with a speargun by her boss, Dr. Wall after a disagreement.
Community content is available under
CC-BY-SA
unless otherwise noted.