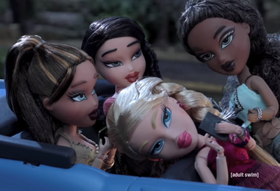 Cloe
, 
Jade
 (Kate Mara), 
Yasmin
 (AnnaSophia Robb), and 
Sasha
 (Saoirse Ronan) were villainesses from
I Know What the Braz did Last Summer
, a segment from "Catdog on a Stick", episode 7.10 of 
Robot Chicken
 (airdate June 15, 2014). The four girls were the popular Bratz dolls, and the segment opened with the friends driving while gossiping.
It was during their conversation that Sasha (who was driving) became distracted, leading the four to strike and kill Barbie with the car. While initially shocked, the friends callously dismissed the death upon learning it was Barbie, boasting of how they had also killed Barbie (the doll brand) in a financial sense before disposing of Barbie's corpse in a ditch. The four girls then threw callous insults at the deceased Barbie before fleeing the scene.
One year later, Draculaura (a Monster High doll) went on a killing spree of the Bratz dolls. Her first victim was Cloe, who she killed by disposing of the medication she used to treat her encephalitis (which she and her friends infected themselves with to make their heads larger). After being confronted by the disguised Draculaura, Cloe died as a result of her head blowing up. Draculaura then attacked Jade by extracting the fat she'd had injected into her lips to make them larger, causing the despondent Jade to commit suicide by jumping out a window.
After killing Sasha by simply shooting her in the head, Yasmin was the final victim of Draculaura, with Draculaura striking her with her car as she tried to find Barbie's body and found it missing, believing her to have survived and begun killing her friends in revenge for leaving her for dead. After unmasking herself, Draculaura boasted of how Monster High had killed Bratz as "poetic justice" for Barbie's death before preparing to kill Yasmin. Yasmin pleaded with Draculaura for mercy, offering herself sexually to Draculaura. The segment ended with the implication that Draculaura played to take up Yasmin's offer, leaving Yasmin's ultimate fate unknown.
Saoirse Ronan also voiced the evil Draculaura from the same Robot Chicken sketch.
Community content is available under
CC-BY-SA
unless otherwise noted.