Wiki Targeted (Entertainment)
Play Sound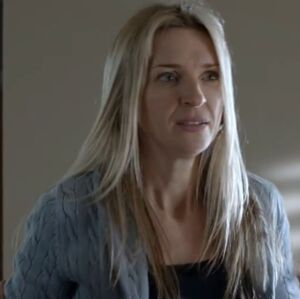 Claire Lyons (Ever Carradine) was the hidden secondary villainess from "I Smell Emmy," episode 2.06 of Breakout Kings (airdate April 8, 2012). She is a women's prison volunteer working as a creative writing teacher.
Among Claire's students is Emmy Sharp, who is serving a 20-year prison sentence for murder, and in the beginning of the episode, she was assaulted by Emmy, who tore open Claire's blouse. Emmy's attack was part of her plan to escape during her arraignment, and after she got away, she entered Claire's home and shot her husband, Sean Lyons, to death. Claire appeared to be surprised by the gunshot and expressed fear when Emmy approached her, only for Claire to turn heel and embrace Emmy romantically, revealing themselves as lovers and conspirators in Sean's murder.
As revealed by Ray Zancanelli (as well as Lloyd Lowery), Claire had been in an unhappy marriage to her businessman husband, not only due to Sean's affairs, but also because in their six-month marriage, she never got the honeymoon that Sean promised her. After meeting Emmy during her job at the prison, the evil Claire began a romantic relationship with Emmy, and colluded with her lover in her escape plan and the murder plot. Following Sean's murder, the couple went to a parking garage (where Emmy spotted Sean) and took the keys to a Mercedes, which they drove to Sean's storage locker. Claire handed her one of the keys, but did not have the key to the second. Despite this, Emmy manages to open the locker and come out with a heavy gym bag, but it's at that moment that Ray and his crew catch the villainesses and fire at them, with Emmy responding in kind. After they get away, the bag is revealed to have been holding thirty pounds of gold coins.
Their attempt to pawn the coins resulted in Claire shooting and killing the owner when he demanded the entire bag in exchange for his silence, and they later escaped to a motel where they were planning the rest of their lives together. However, as Claire was bathing and waiting for her lover, she would be betrayed by Emmy, as her true plan was to escape with her actual male lover, Johnny Griffin. Under Emmy's orders, Johnny drowned Claire in the bathtub.
Ever Carradine also recurred on 24 as Erika, another villainous conspirator.
Ever Carradine also played murderess Jolene on Law & Order: Criminal Intent, possessed villainess Julia Wright on Supernatural, psychotic nurse Randi Gordon on Rizzoli & Isles, and the evil Faye Minden on CSI.
Community content is available under
CC-BY-SA
unless otherwise noted.