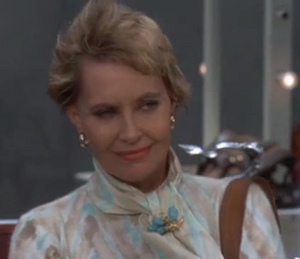 Claire Daley
 (Lola Albright; 1924-2017) was a villainess from
Columbo
's sixth season opener, "Fade in to Murder" (airdate October 10, 1976). She was a TV producer and the wife of fellow producer Sid Daley.
As quickly revealed, Claire had engaged in an extra-marital affair with actor Ward Fowler, who played Detective Lucerne on a weekly TV show. The affair had ended entering the events of the episode, but during their time as an illicit couple, Claire learned that Ward was a deserter in the Korean War, and she had been using that to blackmail Ward. In an early scene, the evil Claire chastised Ward's lack of personality and his acting ability, while also revealing the method of payment: half of his earnings in silver certificates. The callous villainess also reminded Ward that she "invented" him, and in response to Ward's statement that he would give her whatever she wanted, Claire stated that he does so because there's nothing he could do about it.
Wanting to be free of Claire's blackmail, Ward planned to eliminate his former lover, beginning with donning a ski mask and holding up a sandwich shop that Claire was attending. Claire quickly recognized Ward, and later told him that he didn't have it in him to kill her. She stated that she would put her hands down and walk away, only to end up shot in the back and killed by Ward.
Lola Albright also played tragic villainess Lisa in the 1962 episode "The Woman Who Wanted to Live" for the TV series Alfred Hitchcock Presents.
Lola Albright appeared as Gloria Buckles in the 1963 episode "Granny's Spring Tonic" for the TV series "The Beverly Hillbillies".
Community content is available under
CC-BY-SA
unless otherwise noted.