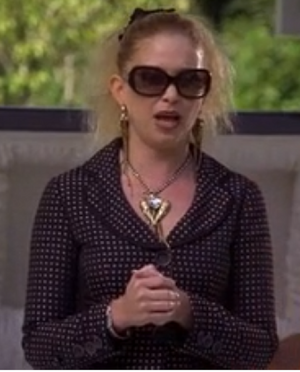 Ciaobella Masterson
(Amanda Detmer) was a villainess from "Black and Tan: A Crime of Fashion," the penultimate episode of
Psych
's second season (airdate February 8, 2008). She was one of the co-owners of the Ciao fashion house, along with her husband Gregor Uwe-Steeb, who was electrocuted to death while giving a speech at a party celebrating their the launch of their fall fashion line.
Ciaobella and Gregor were married for nearly a decade, but their marriage was falling apart, as Gregor was having an affair with Sigrid, one of the models. After learning about the affair, Ciaobella turned heel and planned to kill Gregor, and as part of her plan, the evil Ciaobella utilized her electrical knowledge and rigged the microphone stand at the party, which led to Gregor's death.
However, as it turned out, Gregor had been planning to kill Ciaobella, doing so by poisoning her energy drinks, as he didn't want to lose half of the company to his wife once their marriage reached 10 years. During Gregor's funeral, Ciaobella performed the eulogy and gave one last kiss to Gregor, before she keeled over and later died. As to why it took so long for Ciaobella to succumb to the poison, it was because she was bulimic.
Amanda Detmer also played con artist Tammy Mills on Law & Order: Criminal Intent.
Community content is available under
CC-BY-SA
unless otherwise noted.