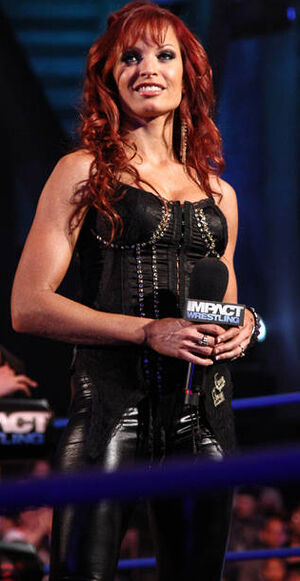 Christy Hemme
is a retired professional wrestler and manager best known for competing in
WWE
and
TNA
, having portrayed a villainess in TNA.
Christy joined TNA in late 2006 as a hostess, but in January 2007, Christy turned heel when she began feuding with the highly popular Voodoo Kin Mafia tag team. Christy had stated that she wanted to wrestle in TNA, which was met with jeers from not only VKM, but some of the fans as well. Christy's first match in TNA was a Tuxedo Match against a competitor solely known as "The Big Fat Oily Guy." She would win, but she was later humiliated, yet again, by VKM.
Christy continued serving as a villainous manager on a mission to destroy VKM, enlisting various tag teams to compete against them. All of her teams were defeated, even when Christy tried to get involved. Lance Hoyt was later brought in to keep Christy at bay, but at Slammiversary, he turned against VKM and became Christy's (kayfabe) boyfriend. After the ruse, Christy laughed evilly as she finally got the best of VKM.
After her feud with VKM ended, the evil Christy became the valet for the Rock 'n Rave Infection, which included Lance Hoyt (later Lance Rock) and Jimmy Rave. They would feud with the Latin American Xchange (Homicide and Hernandez), which included Christy being attacked various times by an unknown assailant. Christy complained to management about being on the receiving end of male-to-female violence, until her attacker was revealed as a woman: Salinas. After the feud, Christy's villainous role came to an end by October 2008.
Community content is available under
CC-BY-SA
unless otherwise noted.