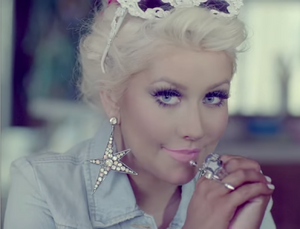 Christina Aguilera
is a pop singer who appears as the main villainess in her music video,
Your Body
(release date September 28, 2012).
The video begins with Christina playing an '80s style video game, and then asking her fortune teller what her week would look like. The teller, named Oranum, states that she is going to have a "killer week," with Christina giving a sinister smile afterwards. Christina is later shown hitchhiking and getting a ride with a male driver, who she later seduces and makes out with. However, after the tryst ends and the driver is asleep, Christina leaves the car and blows it up, killing him instantly.
Christina's heel persona as a lethal femme fatale was established in the video, and later on, she went to a bar and managed to seduce another man away from a woman he was attempting to pick up. After a game of pool, the villainess took her second victim to the men's bathroom stall, where they engaged in a makeout session before Christina bludgeoned him to death. Later on, the evil Christina entered a convenience store donning a pink wig and sunglasses, and managed to seduce the male clerk--who was also getting his fortune told by Oranum. She left the store with the clerk (while holding a baseball bat behind her back), and later took him to a motel, where the pair engaged in a passionate tryst, after which Christina bludgeons her third victim with the bat. The video ends with Christina washing off the "blood" (represented by red confetti) from her latest kill, and she is shown channel surfing before settling on an episode of The Lucy Show, after which she smiles and turns off her TV.
Community content is available under
CC-BY-SA
unless otherwise noted.