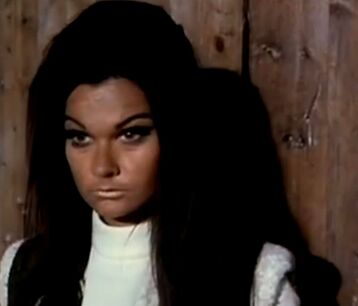 Chriseis (Imogen Hassall) is a villainess in the 1971 horror film "Incense for the Damned".  The film was originally known as "Bloodsuckers" when it was relased in 1970.
A group of friends search for a young Oxford student named Richard Fountain (Patrick Mower) who has disappeared while researching in Greece.  They are shocked to find, that he has come under the spell of a beautiful Greek girl and her suspicious associates.  
The friends find that wherever he has been a number of murders have taken place.  They further find that Chriseis is the leader of a vampire cult, whose blood-sucking methods include the use of S&M sex.
After they think they kill her, they return to Great Britain, unaware that their friend is now a vampire.
Imogen Hassall appeared as Nadya in the 1966 episode "Flight Plan for the British TV series "The Saint".
Imogen Hassall appeared as Cleo in the 1968 episode "Reply Box No 666" for the TV series "The Champions".
Imogen Hassall appeared as Ayak in the 1970 British prehistoric Hammer horror film "When Dinosaurs Ruled the Earth".
Community content is available under
CC-BY-SA
unless otherwise noted.