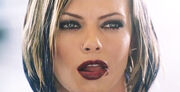 China is the henchwoman and villain's lover from Torque, played by Jaime Pressley.
China is the girlfriend of Henry James, leader of an outlaw biker gang named the Hellions. Her first scene has her taunting protagonist Ford for "preferring to ride bitch." Ford's girlfriend retorts that Henry "is liable to catch something." China takes offence to this and prepares to knife Shane but is stopped by Ford who kisses her and then smacks her bottom, sending her lurching forward. She looks back at him sensuously and licks her lips. Henry extorts Ford, for stealing his bike. Henry murders the brother of a rival gang for being unable to underwrite a drug deal. China serves as the witness to the ordeal and informs the police that it was Ford who was the murderer. She lies arrogantly on the hood of a police car and plays with a bikes cap. Henry and China take Ford's girlfriend Shane hostage. China is shown roughing Shane up by slapping her backside. But the FBI, Ford's gang, and the rival gang cause the hunters to become the hunted. She leaps on top of Ford but he easily throws her to the side, causing her hand to become stuck in a welding machine. Shane catches up to China and they have a 'bike catfight,' performing wheelies and using their bikes as weapons. China tries to kill Shane with a pocketknife but Shane disarms her by acrobatically crouching on her bike. China grinds Shane's bike from behind and taunts her. "You messed with the wrong bitch." Finally, Shane performs a similar acrobatic manouver but she flips and kicks a shocked China off her bike and through a car windshield, apparently killing her.
Videos
Trivia
Community content is available under
CC-BY-SA
unless otherwise noted.