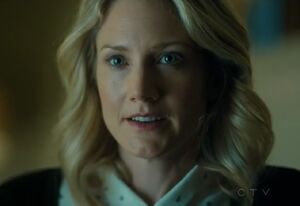 Chelsea Richmond
(Sonja Bennett) was the main villainess from "Pilot Error," episode 3.07 of
Motive
(airdate April 19, 2015). She was a pastry chef who met pilot Brad Calgrove when they were both passengers on the same flight. Chelsea had fears about flying, but she was talked down by Brad.
As it would turn out, Chelsea had a history of stalking, and she instantly took Brad's helping hand as a sign that he was in love with her. The crazed villainess began obsessively stalking Brad, with her delusional obsession including photo-shopped pics of herself and Brad, and even buying a wedding dress and attending bridal boot camp--where her arm was broken by Brad's fiancee, Nicole. Believing that Nicole was an obstacle in her path, the evil Chelsea attacked Nicole in her and Brad's home and pushed her down the stairs, while also stealing Nicole's original wedding ring and a bottle of wine. She even sent invitations to a wedding between her and Brad to the latter's house.
While Brad was at Nicole's side at the hospital, he received a phone call from Chelsea (who used Nicole's phone). Brad confronted Chelsea and noticed her wearing Nicole's ring, which gave her away as Nicole's attacker. Chelsea remorselessly admitted to the attack, stating that she had to attack Nicole because she was getting between them. She attempted to convince Brad that they can move on together once Nicole's gone, but it was at that moment that Brad informed Chelsea that their "relationship" isn't real and that she should stay out of his and Nicole's lives. Following this, Chelsea snapped and went after Brad with a knife, only for Brad to strike Chelsea with the wine bottle. Believing that Chelsea was dead, Brad placed her in the freezer, but Chelsea was still alive after being struck with the bottle, and she ended up freezing to death.
Sonja Bennett also played villainess Beth on Tru Calling, as well as Lifeime film villainesses Sandi Clark and Liz Cook in Held Hostage and Gone, respectively.
Community content is available under
CC-BY-SA
unless otherwise noted.