Wiki Targeted (Entertainment)
Play Sound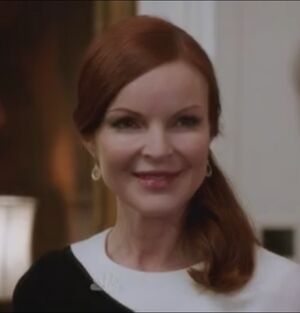 Charmaine Briggs (Marcia Cross) is the main villainess from "December Solstice," episode 16.16 of Law and Order:  SVU (airdate February 25, 2015). She is the sixth wife of famed writer Walter Briggs, who was suffering from dementia. Knowing this, Charmaine secretly dosed him with Viagra so they could engage in sexual trysts, with Charmaine wanting a baby from Walter because he was dying and she loved him.
As revealed by Walter's daughters, Judith and Delilah, Walter had a severe heart condition, and shortly after Rollins and Carisi's visit to the Briggs home, they receive word that Walter suffered a heart attack. Instead of taking him to an ambulance, however, the evil Charmaine hailed a cab and went to an airport with plans to take Walter to Quebec. She was stopped by Amaro and Carisi, who gave Charmaine a court order allowing Walter's daughters to see him, something Charmaine had been preventing.
Walter died of another heart attack after he was returned to the hospital, and after his passing, Charmaine had an electro-probe anal erectile procedure done on Walter; ejecting his sperm out of him and using it in an attempt to get pregnant. She was arrested and charged with murder, and during the trial, Charmaine made claims that they were heading to Quebec because Walter wanted to die at a peaceful lake, and she gave him Viagra because Walter was proud and didn't need to know that his body wasn't working anymore. After it was revealed that Delilah and Walter argued over her playwrights, Charmaine agreed to cut a deal and plead guilty, as long as Walter's name doesn't go on Delilah's play, which Charmaine bashes. During this, Charmaine reveals that she is pregnant with Walter's baby, before she was sentenced to one year probation.
Trivia
Marcia Cross also appeared on Quantico as the evil Claire Haas.
Gallery